LIBRARY HOURS FOR 2021
Monday & Wednesday 1-5 p.m.
Saturday morning 10-12.
Face coverings OPTIONAL 

Three air purifiers

Disposable masks & hand sanitizer available

Please do not visit the library if you are feeling ill.

Hand sanitizer is available 

Curbside pickup is available 

Free At-home Covid test kits available
ARTIST ERIK KOEPPEL 
Hudson River School 19th Century American Landscape Painters.
Wednesday, August 24, 2022 - 6:30 p.m. at the Randolph Town Hall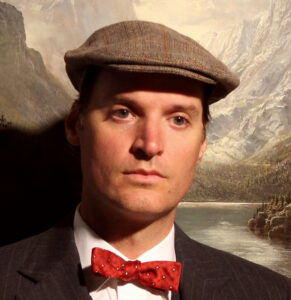 Artist Erik Koeppel will speak about his work to revive the methods and philosophy of the 19th Century American landscape painters known as the Hudson River School. Many of these artists painted our beautiful local scenery here in the White Mountains. As Koeppel's studio is in Jackson, NH he will bring real paintings in an easel display to accompany the talk. Learn more about Erik Koeppel via his website: ErikKoeppel.com.
Erik Koeppel (b.1980) is a traditional landscape painter who has become a leader in the revival of the techniques and philosophy of the Hudson River School. Koeppel studied extensively in museums, and in nature to arrive at the determination that the powerful methods of the masters, are in fact an urgently needed voice in contemporary culture. In mastering these techniques, this assertion has been proven by the extensive success his work has found nationwide, in the form of awards, publications, academic recognition, exhibitions, and collectability. His highly naturalistic paintings are created without the use of photography.