History
of the Randolph Public Library
The Randolph Public Library began with a request for books to the State Library Commission made by Charles E. Lowe in 1893. One hundred books arrived from Concord and were stored in his house on Randolph Hill. The following year 15 more books were received from the state. By 1895 the book stock was 218 volumes, including 70 donated by the Berlin Public Library and 33 bought by the town.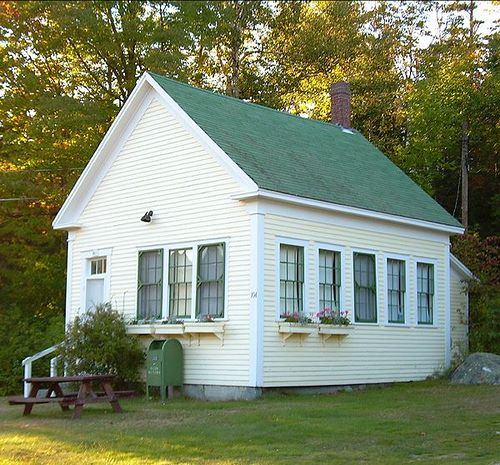 In 1897 the collection was moved to the Wood Farm, where it was shelved in the sunny south room. In 1898 Eldena Hunt entered the titles in the accession book, which served as a catalog. In the early 1900's the collection outgrew the bookcases at the Wood Farm and it moved to the Town Hall. Here three tall bookcases were built against the wall between the auditorium and the kitchen; there was also a bookcase with glass doors in the cloak-room. As the hall was used for dances and parties, the book shelves were fitted with shutters that could be locked.
The first librarian on record was Mabel Lowe, who served from 1911 to 1916. The Library was open on Wednesday and Saturday afternoons; her salary was 50¢ a day. Until she had a bicycle toward the end of her term, she used to walk two miles each way. During this time, there was a fence around the Town Hall for hitching horses, and sometimes she arrived by horse and buggy.
The town's annual report for 1918 shows $24.00 paid to Frances Wood as librarian. She was 17 at that time. The first payment to Katherine Wood occurs in the report for 1920. At that time she was 14 and a student at the high school in Whitefield. In 1960 Katherine Wood gave up the library after forty years of dedicated service. Meantime the Library had again outgrown its accommodations and 1932 it was moved for the third time, to the school-house on Durand Road and remained there as a seasonal summer library until April 2008.
At the Town Meeting on March 13th, 2007, Randolph voters approved to accept $405,831 raised by the Friends of the Randolph Public Library to build a new town library. The collection was later moved to the new building during February and March, 2008. The new library officially opened on April 7th, 2008.